Fashion and Styling have become one of the most important parts of women's life. When it comes to makeup and fashion, all the women out there wants to look fashionable. But some of them forget one of the most important parts which need to be pampered. The thing which we are talking about here is Nails. They deserve to look beautiful. Most of the ladies have a misconception in mind that nail art is very difficult and time-consuming. Today, this Nail art tutorial will get the same misconception out of your Mind. Don't worry, today we will make nail art easy.
Go through the detailed and easy steps below to learn some beautiful and amazing nail art designs.
Materials Required For Nail Art
Before moving on to the steps or the tutorials for learning some beautiful nail art designs, we need to know the things required. Here is the list of the things which we will require during this tutorial :-
Basecoat (not mandatory)
Magenta Nail Polish
White Nail Polish
Silver Nail Polish
A pink nail polish which you like
One Glitter polish
Sponge
White, Purple , Black, and Blue acrylic paints.
Detailed steps of nail art Tutorial
Step 1 : Protection Using Basecoat
You need to apply the base coat on your nails so as to provide protection to them from acrylic colors and chipping. After it is done, provide a layer of white nail polish on all of them. This base coat will benefit in giving more strength to the nails. This step of nail art is necessary for all those whose nails are prone to chipping or Breaking.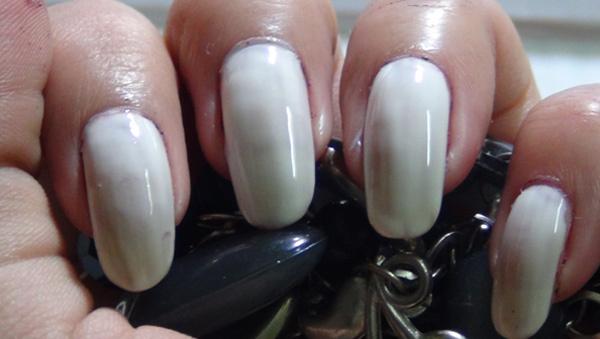 Step 2 : Pink Nail Polish's Turn
After you have successfully completed the step 1, let the white nail polish dry. When it gets dried completely, apply one or two coats of nail polish and let it get dry too before going further.
Step 3: Magenta and Silver's Turn
After completion of the previous steps properly, take a palette and put some magenta nail polish on it. Now make use of the sponge as now we will have to sponge up the magenta nail polish focusing on the tips and extending a bit towards the center. Make it look like Ombre Nail. Now just wait for some time  and let settle it down. Now take a fresh sponge and use the silver nail polish in the same manner. This will result in looking like as shown in the picture below. Use cotton bud and polish remover to clean the stray nail polish if any.
Step 4 : Glittering and Drawing in Nail art
Now nicely apply a coat of glitters on the nails and let it dry completely. After it is done, take white nail polish in the palette and using a thin nail art brush draw the flowers as shown in the picture below.
Step 5 : Drawing Branches with Black Acrylic Paint
Take black acrylic paint on a palette and using the thin nail art brush draw branches on the nail of the little finger and some other empty spaces of other fingers too. Also, outline the petals and flowers with petals as shown in the picture below.
Step 6 : Inner demarcations in the Nail Art
Now using Blue and Purple Colour give some inner demarcations  to the flower. Look at the picture below which will teach you better.
Step 7 : Placing Sequins
Collect some Sequins or you can get them from your glitter polish. Using a toothpick place them at the center of the flowers. Your nail art is looking beautiful. Isn't it? But it is not completed yet.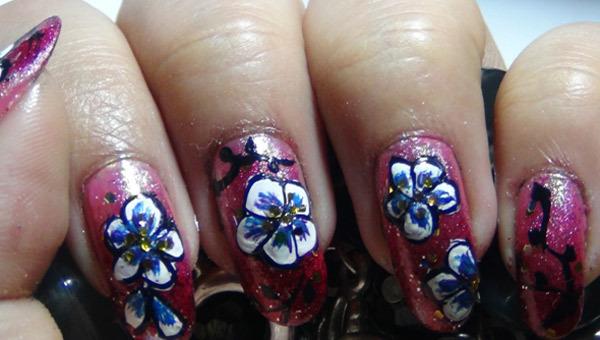 Step 8 : Finishing Touch
Nicely apply the top coat after your design is dried. Make sure that you have given it fifteen to twenty minutes to dry it up before applying transparent polish on it. Now your design is ready. Wasn't it easy ? You can do this nail art at home yourself.

We hope that you liked the tutorial. Do not forget to share it with your friends. If we get a good response we will provide some nail art videos.